Facebook Fix
So the traffic hating for Empower Network is true. Empower Network is dominating The Alexa charts and with that, Facebook made up some junk about how now you can't share your blog post on Facebook from Empower Network blog.
Last week I shared this tool with my Empower Network Facebook group. You are welcome to join that group here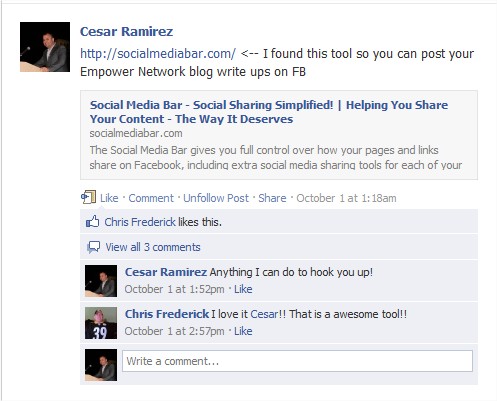 My great friend that I have known for over 4 years and has been a guest blogger here on my website, Chris Record, has put together a tool for others to leverage to "mask" your blog link on Facebook, so that you can share your blog link post. You can check out the tool here: http://SocialMediaBar.com
Additionally, many do not know how to draw massive traffic to their blog post, so i'm going to share with you a website I found that bring Social Bookmarking to your post. Go to http://www.socialmarker.com/ — I just watched a cool weekend seminar learning some new SEO tricks from a guy name Jeff Johnson. He's been in the SEO Internet Marketing niche for a few years. Enjoy.
Cesar Ramirez
P.S. Are you overwhelmed with all these internet marketing train tracks that lead to no where? Maybe it's time to take a look at what we have created for you here: http://www.WorkWithCesarRamirez.com
P.S.S. If your list from Aweber or lead list is smaller than 100 people. Start here: http://www.AttractedLeads.com