<<<
eBay Domination and My Secret Weapon
on March 1st, 2012 — I did a special webinar. You may have had the pleasure of being on it and were able to get on. It was completely maxed out. To the point where people asked me if I could record it because they couldn't get in. Well I did record it but it sits in a very special secured place. The reason being is because I respect the guy who showed me the secrets. His name is DJ.
He didn't want the webinar out to the public because of competition reasons. I don't blame him. He also uses it as a tool to build his business. Not just for himself but for others. During that webinar, he mentioned he'd take only 10 people and personally do 1 on 1 coaching for FREE depending on their qualifications. Now I have to be honest, not everyone qualifies because some have a urgency desire and others have a dream. The urgency desired ones are the ones that send me emails everyday and ask me, "hey just want to make sure you didn't forget about me?" Or they call me.
This is pretty cool. You know after 79 registrations on that webinar and we only had 50 seats, I let the one's that missed  it or show up late watch the recorded webinar for 1 day and then I took down the link per DJ's request. You want to make sure you get on my list for the next one.
Out of the 40 people that filled out the survey, I have coached now 17 of them in less than a week. I mean I literally called them up, and spent my time for free educating them step by step. Why? Because if they make money on the front end, the backend takes care of itself. So it's to each other's benefit to prosper together and duplicate.
So this is what happened:
DJ got overwhelmed with the amount of responses that I decided to take action and help the poor kid out. Did I forget to mention that I met him when he was 17 in a Network Marketing company. Yes, the whiz kid, now 22,  has been doing eBay for the last few years and hasn't touched a website, branding himself, SEO, nothing! It's strictly just eBay and some super secret affiliate stuff in the back end.
This project started with me teaching my wife how to do eBay because she was looking for something simple to make money online. Something where she can be on the computer and make money. The sales started coming in, and I knew we were on to something huge.
So back to my story. I coached over 10 people last week. About 16 to be exact are in a special Skype group masterminding and earning money in less than a week.  Here are their comments with excitement: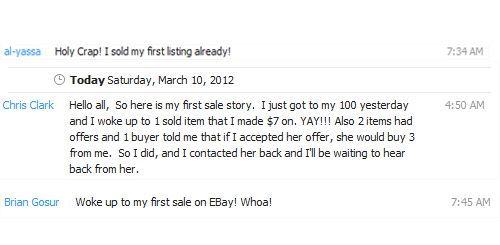 Now, I want you to stop and think. These folks didn't have to convince these customers to purchase their products. The customer actually wanted them. Imagine, Chris up there as of today has sold over 5 items from the weekend. And the income increases as his products listings increase. Oh and none of these students had to go to a post office to ship the item :-). Oh this is good stuff.
In the industry from working from home, you have about a 90 day window to get money in people's pocket, or they are going to quit on ya. Or that autoship cancels on you after all that hard work. That's not the case here. We are onto something huge. People are doing the work, and seeing the fruits of their labor.
So how do you get access to this training? Like I said, register here and keep an eye out for the next one. I can tell you that you don't want to be late.
Register the for next webinar!
For those of you that were on the webinar and haven't received  call, we are almost half way through the first list. Thank you again for your patience. Expect a call from me or DJ this week. And make sure to answer your phone because if you miss the call and we leave a voice message, we'll be on the next person down the list if we don't hear back right away. There's urgency here and we want to respect everyone's time.
Cesar
P.S. Doesn't your family deserve it? You can start earning money right away as soon as today. Hint: Be urgent.
P.S.S. I developed a software that NOBODY has access to but us to automate the grunt work. That software is your eBay business on steroids. I'm making it available for FREE to sweeten the deal on working with us for the first 100 people. 80 spots left.