Hello Friends,
It's been a minute. I know. Bare with me I'm sorry to have to be a stranger online. Frankly my wife and I have been slammed with our e-commerce business and homeschooling the boys. Additionally, I've been through a lot in the last 3 years. We'll get back to me in a follow up email later.
In 2010, I met a dear friend, Mark Hoverson at a Jeffery Combs event — More Heart Than Talent. I felt an instant connection with Mark Hoverson. We were never in a company together but he was always a friend and a mentor to me online and off.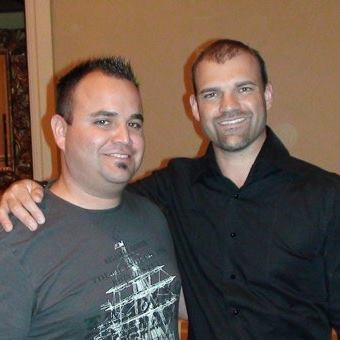 I can text or call him to ask for business advice and as I attended many of his webinars, I noticed something awesome that nobody was doing. He was drawing on the screen like a 5 year old. I sat there and was thinking to myself, why is this guy drawing? Later on he shared with me the book (The Back of The Napkin by Dan Roam) that made him draw and the purpose of that drawing lead to my next point. He was always giving a lot of himself. Shared so much value that I felt like I owed him at least this….
In October of 2017, because I had Mark Hoverson on my cell phone saved, he showed up on my Snapchat Feed. I was in shocked on how skinny he had gotten. I had no idea he had a very unique cancer. He was given 4-6 weeks to live and ended up living an additional 4 years.
Support his family here: http://cesarramirez.com/markhoversonGoFundMe
Mark's heart was unique. He loved the industry of helping people hit their maximum potential. His heart was in the right place and hundreds and thousands of people came across Mark Hoverson online one way or another.
I'm reaching out to you in the kindness of supporting his family he left behind on their medical bills. He left a very unique video that I haven't seen anyone with cancer leave behind. He left you and me a message. That message can be found on his GoFundMe page (http://cesarramirez.com/markhoversonGoFundMe).
When I spoke to Mark last, he and I had an awesome phone conversation. He was more concerned about my well being of achieving greatness than he was discussing his cancer. As a matter of fact he called it his "little sickness." In my opinion he lived a fullness of life with his business and family.
I'll miss you Mark. My heart aches but know you're a lover of Jesus Christ and you're in a place of no suffering.
It's good to be writing again old friend, I hope you haven't given up on me quite yet my friend…
Chat soon,
Cesar Ramirez
P.S. Please support The Hoverson family. Mark Hoverson? was a dear friend I met back in 2010 in Dallas, Texas at a business networking event. He left behind his beautiful wife and 4 children. Cancer bills as you can image are astronomical. Thank you and any little bit helps to get closer to their goal! Support his family here:
http://cesarramirez.com/markhoversonGoFundMe