Hello my friends Merry Christmas from Xochitl, myself and the C.A.L. boys.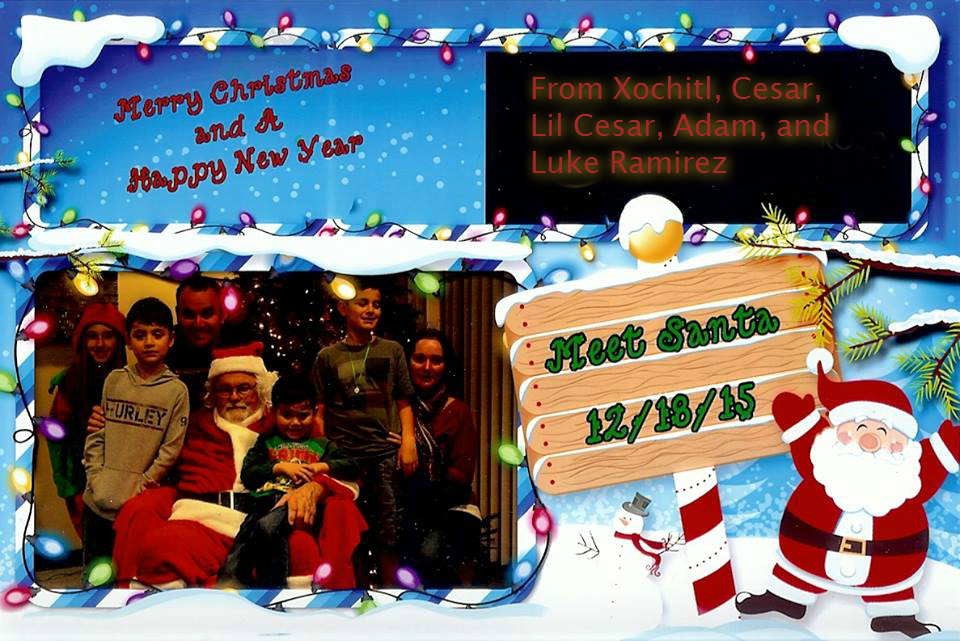 As I look back at this year, I'm most grateful for my Family and Friends that have believed in me, and I in them. It wasn't the most simplest year for us as my wife Xochitl recently hit us by surprise. She had a ruptured appendix and 4 days into it, we thought it was the stomach flu as the pain wasn't in her lower right portion of her chest. She spent 1 week in the hospital… It was rough on us as momma has never been sick in 15 years.
We were told by the surgeon that if we would have waited any longer, she may not be here with us today. I do believe God is awesome though. Her faith being as strong as it is in the Lord kept her here. She prayed through the whole process. Her suffering really made me stop and think what is most important in our lives.
Often times through our online businesses, we are so focused on the work that we forget about the time together as a family. That balance is what is key. I'm constantly working on myself for that balance. The only way to find it is by knowing where you were, where you are, and where you want to go. Having a rock solid foundation of goals aligned with morals and faith is what we are all seeking.
As we approach 2016, think about what your goals are and foundation. Seek the importance of your business and life. If we have ever worked together in the past, you'll know that keeping "Servant Leaders" around you and building those folks up is the key to long term success. Easier said then done for sure. You first have to become a servant leader before you can bring some on bored with you. The only way you become one is to improve the lives of those around you by you becoming grounded in your core foundations. Faith, Family, Friends, and Finances.
Find here: locksmith near my location london
Check this out. I recently got back from a men's retreat and you can align yourself with this core belief if you chose.
You can modify the last statement for whatever your belief in faith is in your life.
"Make a friend, be a friend… lead a friend to Christ."
I know the world drops off Christ at the end, but without Him, I wouldn't be here. Priorities first right?
Merry CHRISTmas everyone. We love you guys,
Xochitl, Cesar, and Lil Cesar, Adam and Luke Ramirez.
P.S. Make sure to get on my list at CraigslistAdPower.com to get some new and upcoming training. I'm partnering up with an awesome leader who has created 7 figures working from home and coming January, I'll introduce you to him if you're on that list.